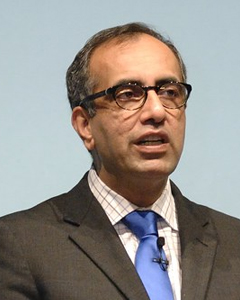 President, Asia/Pacific, Middle East & Africa
MasterCard Worldwide
In recent years, we have seen increasing recognition for gender equality and women's empowerment around the world. It is indeed heartening to note that women have made enormous strides in society.
MasterCard's research on women's advancement has shown that while more women have access to job opportunities and tertiary education, there is still room for improvement, especially when it comes to women taking top positions in government or business. Women's advancement starts at the basic level – from fostering confidence in girls through education, to giving women skills development and regular employment opportunities. These are the essential building blocks to further empowerment, financial independence and leadership.
At MasterCard, our corporate social responsibility platform in Asia/Pacific, Middle East and Africa focuses primarily on improving the quality of life for women and children through educational and economic empowerment opportunities. We do this by supporting a broad range of women's and children's causes through scholarships, educational programs and various sustainability programs. It is in the same spirit that we are collaborating with UN Women Singapore on Project Inspire: 5 Minutes To Change The World, a year-long project aimed at engaging youth to empower disadvantaged women, in celebration of MasterCard's 25th anniversary in Asia and the 100th anniversary of International Women's Day.
At MasterCard, we focus our attention to ensure our female employees are given opportunities to reach their full potential, with opportunities for professional and personal growth through mentorship and executive leadership coaching programs. The MasterCard Women's Leadership Network is the largest and most active Business Resource Group in the organization, and provides a platform for our women executives to interact via events, dialogue sessions and CSR initiatives.