Mentoring Programme for Aspiring Women Directors 2023
Guidelines, Eligibility Criteria and Terms and Conditions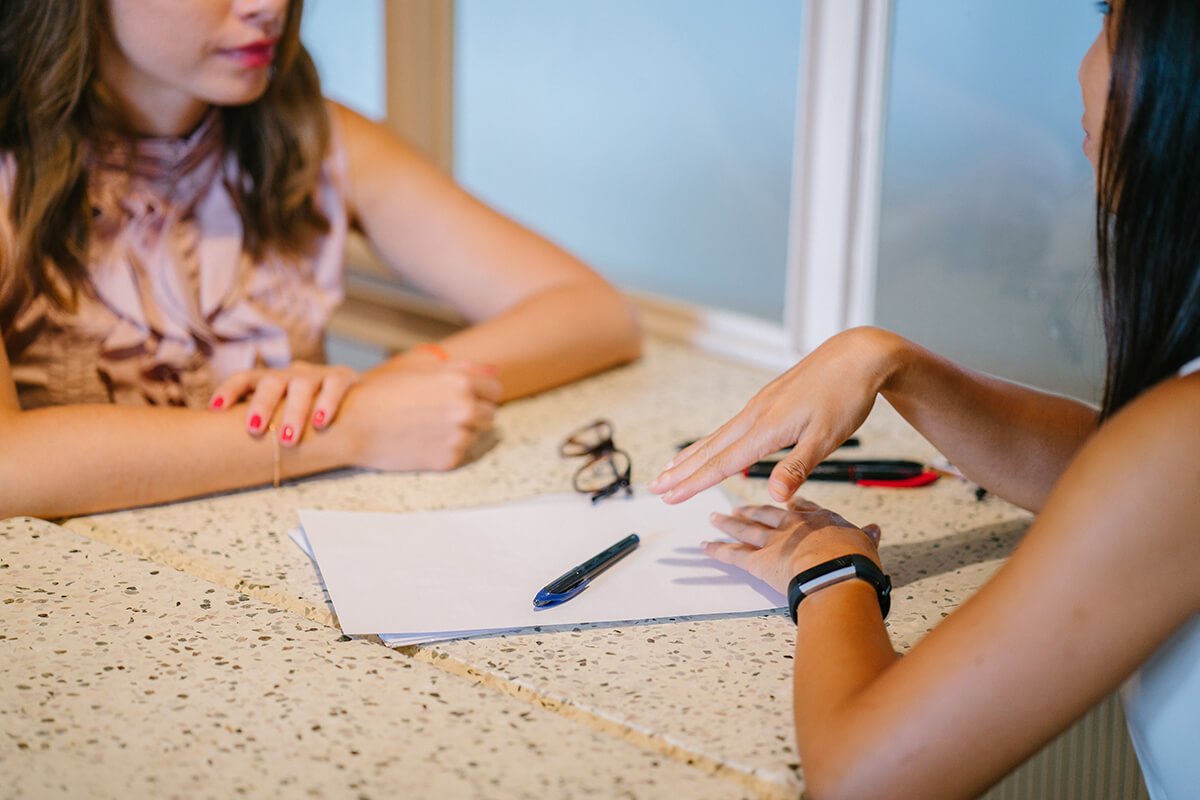 This document sets out the Programme Objectives and Terms and Conditions governing the BoardAgender Mentoring Programme for Aspiring Women Directors 2023 ("Programme").
The Women's Director Mentoring Programme is BoardAgender's flagship initiative designed to provide "next-generation" female directors ("Mentees") the opportunity to develop as directors and to understand their unique value to boards.
Mentees will gain access to experienced Directors who will provide guidance and support for the Mentee over the Programme period, which will help build their confidence and deepen their peer networks.
1. Programme objectives
The Programme introduces "next-generation" female directors ("Mentees") to Chairs and experienced past and current Directors ("Mentors") based in Singapore. The Programme aims to assist Mentees with meeting their directorship-related goals.
Benefits may include:
Gaining knowledge and skills that will help them take up the role as a non-executive director, enabling them to contribute as peers in the boardroom
Gaining insights into their unique value proposition for boards
Increasing their practical knowledge of governance issues in companies and not-for-profits boards
Gaining valuable insight, advice, and guidance on the process of selecting and appointing new directors
Obtaining advice and guidance relevant to board roles and challenges;
Fostering and enhancing connections with influential business leaders
Developing and growing as directors and leaders, understanding the Programme is one element in their director journeys
In the long-term, we believe that the Programme will provide Mentees with a Mentor's advice, guidance, and support so that they may contribute effectively as directors and achieve their professional development goals.
The Programme also provides Mentees with the opportunity to develop their skills to become future Mentors themselves so that they may "pay it forward" to another generation of aspiring board directors.
2. Programme management
BoardAgender will be responsible for managing the Mentee application process. The number of places in the Programme is limited to 10. Initial shortlisted applicants may be asked to participate in a phone interview with a representative from BoardAgender or for more information via email before their Application is presented to an Advisory Selection Committee. The Advisory Selection Committee will be made up of representatives from BoardAgender and other key stakeholders.
BoardAgender will provide a shortlist of applicants to the Advisory Selection Committee, based on the Eligibility Criteria and interview or email feedback.
The Advisory Selection Committee will select successful applicants and BoardAgender will notify them accordingly.
The Advisory Selection Committee's decision is final, and no further review or discussion will be entered into with any applicant to the Programme. Due to the high number of applicants expected to be received, we will not provide feedback to applicants who are not shortlisted.
3. Key Programme details
Applications open on Thursday, 9 March 2023
Applications close at 5pm (Singapore Time) on Friday, 21 April 2023
Shortlisted candidates may be called anytime between Monday, 8 May 2023 and Wednesday, 17 May 2023
Successful applicants will be notified via email by 19 May 2023
Note: Dates may be subject to changes due to exigencies
4. Submitting an application
All applications must be submitted online. All applicants must complete an application and attach a copy of their CV or bio to the application form. Please name your CV or bio document with your first name, followed by your last name.
5. Eligibility criteria
Applicants must satisfy the Eligibility Criteria set out in the Terms and Conditions.
The main criteria are listed below:
Aspiring and "next-generation" female directors (Singapore citizens or Singapore Permanent Residents) living in Singapore who are not on commercial or subsidiary company boards. Those who are on not-for-profit boards will be considered favourably.
Significant experience (i.e. at least five years) as at least one of the following:

A senior executive in a large company (listed or unlisted, private, NFP) within Singapore or overseas (either as a C-Suite executive, a line manager with profit and loss accountability, or in a senior leadership role including but not limited to Finance, Operations, IT, marketing, or Human Resources);
A senior professional advisor to boards of large companies (listed or unlisted) in Singapore or overseas (at partner or director level in law or accounting firm, investment bank or venture capital business);
A business owner/entrepreneur of a significant business with directorship responsibilities; and/or
A senior public servant.
6. Programme launch
a. Masterclass sessions for Mentees  (2 half-day sessions)
Friday 2 June 2023, 11am-1pm
Friday 9 June 2023, 12pm-2pm
b. Masterclass session for Mentors  (1 session)
Friday 16 June 2023, 5pm-6pm
Note: Dates may be subject to changes due to exigencies.
7. Programme events and workshops
The Programme will include a series of events and workshops covering peer-to-peer sharing and sharing by senior board members and professional organisations. These will be a mixture of online and in-person sessions (to the extent permitted by social distancing requirements). The Programme will conclude with an End-of-Programme event involving all Mentees and Mentors.
BoardAgender will provide the events and workshop schedule to the Mentees before the start of the Programme. Mentees are expected to attend the events and workshops. The events and workshops will be held in the following months (specific dates will be published in a separate document once confirmed):
July 2023
August 2023
September 2023
October 2023
November 2023
December 2023
8. Terms and Conditions of the Programme
By applying to participate in the Programme, you agree to be bound by these
Terms and Conditions:
Application
Applications must be completed online and submitted by 5pm (Singapore time) on Friday, 21 April 2023
You must also attach a copy of your CV to the application form by the date and time stated in 8a. above.
You warrant that all information provided in your Application is true and correct and that you satisfy the Eligibility Criteria.
Eligibility Criteria
You are a Singaporean citizen, permanent resident, with your principal place of residence in Singapore for the Programme's duration from 1 July 2023 to 31 December 2023 ("Programme Period").
You are currently seeking appointments on company and/or not-for-profit boards of directors in Singapore (including non-executive board positions).
You have not been, nor are you currently, disqualified from being a director of a corporation or organisation.
Conditions
You understand the objectives and purpose of the Programme and accept the limitations to it; for example, you may not be placed with a Mentor of your choice or from your preferred industry.
You must be available to participate in the Programme for the entire Programme period.
You are not entitled to any financial or in-kind support from BoardAgender and are fully responsible for covering your costs and expenses in participating in the Programme.
You will use your best efforts to attend all other Programme events in person or by Zoom and meet with your Mentor at the place and on the dates and times agreed with your Mentor.
If shortlisted for the Programme, you will make yourself available to participate in a phone interview with representatives from BoardAgender if requested before any consideration of your Application by the Advisory Selection Committee. The ultimate selection and matching of Mentors and Mentees are in the Advisory Selection Committee's sole discretion, and their decision is final and not subject to review or further discussion.
You will participate in a Programme evaluation survey.
You will, at all times, conduct yourself professionally and ethically.
You will keep confidential any information shared with you by your Mentor and not disclose any such information to anyone unless expressly authorised by your Mentor.
You warrant that your participation in the Programme will not conflict with the Mentor or any other party's interests. If any actual or potential conflict of interest arises, you agree to notify the Mentor and BoardAgender immediately.
If you fail to comply with these Terms and Conditions, the BoardAgender may, in its sole discretion, require you to withdraw from the Director Mentoring Programme.
Programme Fees
Candidates selected for the programme agree to pay a programme fee of SGD 500 for the full duration of the programme. Acceptance to undertake the programme and full payment to be made to SCWO by 28 May 2023. After which, no refunds will be entertained.
Privacy
By submitting this form, you acknowledge that we will deal with your personal data pursuant to our Privacy Statement dated 9 March 2023, which we reserve the right to amend at any time. The following are the current provisions of the Privacy Statement:
We collect personal data for various reasons

To provide you with the services you have requested and to maintain our relationship with you;
Communicating with you in relation to updates and sharing of information;
To comply as required under applicable regulations by government authorities.

We may share your personal data internally, or with our affiliates, partners, sponsors and government authorities. We may also disclose your information where there is legal or regulatory requirement to do so.
We will retain your personal data only as necessary for the effective delivery of services to you, or as required by the relevant laws and regulations.
We take all reasonable precautions to protect your personal information from loss, misuse and any unauthorised access, modification or disclosure. The protection of your personal data is a priority for us.
If you have any comments or questions about this Privacy Statement, please contact us at boardagender@boardagender.org.