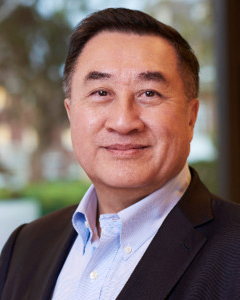 Asia-Pacific Managing Partner
Ernst & Young
At Ernst & Young, we believe a diverse and inclusive culture in the way we operate enables our people to achieve their potential, regardless of age, gender, ethnicity, background and other characteristics. It also enables us to deliver high quality service to our clients, create competitive advantage and drive market leadership.
Today, women make up 60% of our 2,000-strong workforce in Singapore and about half of our professional staff worldwide. We recognize that women play an increasingly vital economic role and have implemented supportive programs to enable women to thrive. This includes our local flexible work arrangement program that that allows women the option of balancing their immediate career and personal obligations through a mutually viable work arrangement. Other women programs globally include the Pathways to Meaningful Partnership training course, Professional Women's Network, and Women's Partner Leadership Alliance Network, which encourage the visibility of emerging female leaders and promote the outreach of our women initiatives.
Some of the accolades we have garnered worldwide include include Fortune's "100 Best Companies to Work For"; Australia's Equal Opportunity for Women in the Workplace Agency "Employer of Choice for Women list"; Great Place to Work Institute's "Great Companies to Work for Women in Mexico" and USA's Working Mothers "100 Best Companies".
Our influence in advocating inclusiveness and diversity extends beyond our organization, and we have invested in building related thought leadership reports and promoting these to our clients and the community. To this end, our flagship Groundbreakers and Globalization report series provide our clients and public with leading research on the impact of women, diversity and inclusiveness on business success, and our leaders are speakers at many women leadership conferences.
A champion of diversity and inclusiveness, we continually work to create an environment where our people feel valued and are supported to perform their best.