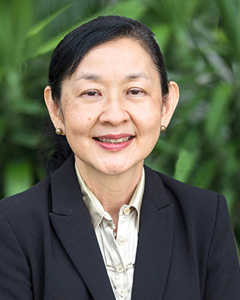 Group Chief Executive
SingHealth
Healthcare is an industry that attracts a high percentage of female employees. At SingHealth, we have close to 16,000 female employees in the Group, which makes up more than 80% of our staff strength. At KK Women's and Children's Hospital alone, almost 90% of our 4,000 employees are women. Many assume clinical leadership and management responsibilities. Whether in medical, nursing, allied health, administrative or ancilliary capacities, our female employees contribute greatly to the Group's growth, patient-centric mission and pursuit of excellence.
Working alongside these individuals has inspired me personally and professionally. Women have shown that there are no limits to the positive impact we can make in the lives of others. As our female employees take on multiple roles as career professionals, in the family and community, we strive to help them achieve work-life harmony through family-friendly initiatives, job re-design and flexi-work programmes. For those who had been away from the workforce to raise their young children, we avail return-to-work training for them.
At KK Hospital, these have proven successful in helping our female employees juggle their roles. And we are gratified by the industry recognition of our HR practices in Quality Work Life and Employee Health and Wellness.