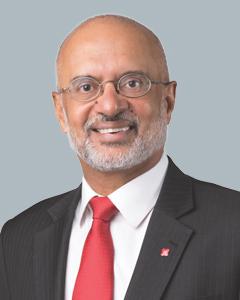 Chief Executive Officer
DBS Group Holdings & DBS Bank
As the centre of economic activity shifts towards Asia, perhaps the single biggest challenge to our growth is the availability of talent. It is ironic, then, that the financial services industry continues to ignore one of the largest available talent pools at senior levels… women! The truth is that the burnout rate among women as they move up the ranks is very high, especially as they approach the C-suite, and a lot more can be done address this issue.
I am pleased that DBS' track record in this regard is actually quite good. Our ambition is to become a leading Asian bank and as we grow in the region, we believe in nurturing and developing talent; in attracting, grooming and retaining the brightest and the best, regardless of race, gender or religion.
On the gender front, we have a host of family friendly policies that are supportive of the needs of working women. These include flexible work arrangements including part time and flexi hours. More importantly, we have a culture that allows women to down-shift their career during the critical child rearing years, and then get back on the fast track when they are more ready to do so.
Today, women make up nearly 60% of DBS' 15,000-strong workforce. They are well-represented at the senior levels, in both business and staff roles. Women account for 30% of our Managing Director population as well as the Group Executive Committee, the bank's most-senior decision-making body. Our Institutional Banking business, which accounts for over 50% of our global P&L, is helmed by a woman and so is our wealth management business. Our CFO, Group Head of Human Resources and Group Head of Strategic Marketing and Communications are all women.