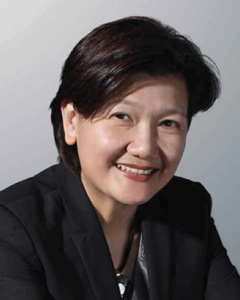 Executive Chairman & Group CEO
Hyflux Group
Hyflux employs close to 2,500 employees in nine countries around the world. In Singapore, 21.4% are women – a reflection of the nature of business where our core capabilities are primarily engineering-based.
The Hyflux team is a global and diverse group. Regardless of age, gender or ethnicity, our focus is on recruiting, engaging, motivating and retaining individuals whose skills, aspirations and values are aligned with the company' strategic vision and core values. We believe in creating an inclusive workplace where our employees are given unparalleled opportunities to develop their careers and capabilities. We reward based on a clearly-defined, performance-oriented compensation system.
We believe that being a woman should not deter her progress in the company. Of our key management committee of five, three of us are women. We also have a number of women holding key positions and responsibilities in legal, finance, treasury, corporate communications, QEHS, purchasing and procurement and business development.
At Hyflux, we provide our women engineers the same opportunities in overseas work experience and have sent a number of them to Algeria for work at our two seawater desalination projects. We also provide equal opportunities to both men and women to further their studies and for training and development.