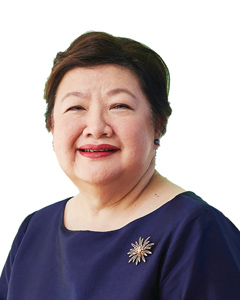 Managing Director of Ernst & Young Advisory Pte Ltd
ASEAN Government and Public Sector Leader
At EY, the 'gender imperative' dialogue is one of our leading global and local inclusiveness priorities. We continue to bring attention to the issue by influencing dialogues on gender parity in leadership roles in both private and public sectors. The tone from the top of the organization, whether business or government, must insist on accountability by leaders at every level, to meet specific and defined goals, while identifying the obstacles for women's growth to top tier roles. We need to ensure that women are getting the necessary experience and exposure to make them candidates for these critical positions.  This will require male champions helping our women pave the path, successful female role models and true invested sponsorship beyond traditional mentoring and support networks so as to create an equitable and gender inclusive pipeline.
It takes courage to lead by example, and question all barriers to help create a truly equitable playing field for women and men. That's a daily challenge for me. I encourage each of us to question our organizational processes and personal mental models, eradicate unconscious biases and explore creative opportunities to enable women to progress and take on leadership roles in their career journeys.