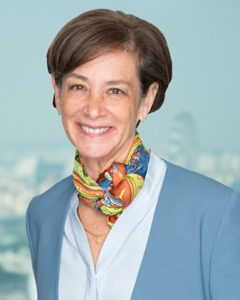 Managing Director and Head Global Transaction Business, APAC
Deutsche Bank
Deutsche Bank believes that "diverse teams are winning teams". For us, diversity in its broadest definition- cultural, gender, ethnicity, or age – is not simply the right thing to do but also core to a successful business strategy. It's about attracting and retaining the best talent – and women are core to that equation. It's about awareness of different styles and needs. It's about ensuring that we understand our clients' diverse perspectives and their needs. It's about being a great place to work.
Part of being a great place for women to work is providing tailor-made programs adapted to their needs across the spectrum. To this end, we support initiatives such as maternity coaching, flexible work arrangements, and child-care benefits; facilitate women's networks and mentoring; and offer targeted programs to support women at the senior management level.
One specific example is Deutsche Bank's annual 'Women in Asian Business Conference', which shines the spotlight on female business leaders in Asia. Furthermore, top-performing women may be chosen to participate in the "Accomplished Top Leaders Advancement Strategy" program, in which they are provided the opportunity to work directly with a member of Deutsche Bank's Group Executive Committee.
At Deutsche Bank, diversity councils led by senior leaders are instrumental in driving diversity: our APAC diversity council is chaired by our regional Chief Executive Officer, Robert Rankin, who personally takes ownership for diversity and is committed to not only increase representation of women in the workforce but also in the key influential positions in the Bank.
Diversity isn't just good -it's good business.