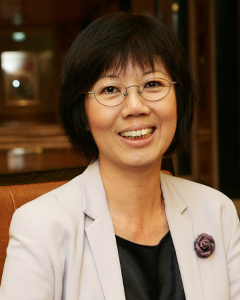 Annie Koh is Vice President for Office of Business Development and External Relations at the Singapore Management University (SMU) with effect from June 2012.
An Associate Professor of Finance, Annie also holds the position Academic Director of The Financial Training Institute (FTI), Center for Professional Studies (CPS), International Trading Institute (ITI) and Business Families Institute (BFI) at SMU – NB.
It's timely that BoardAgender has taken on this important agenda item – having greater diversity and representation of women at board levels.
At Davos in 2011, a recent study by BCG mentioned that whilst women are the ones influencing more than 70 percent of the household buying decisions and therefore exerting great impact on business – we are still not seeing sufficient recognition of their contribution at board level.
The time has come for more of us to make a difference in driving for greater diversity at board representation as it makes for sound business sense- businesses like countries can be sustainable only if there's inclusive growth.