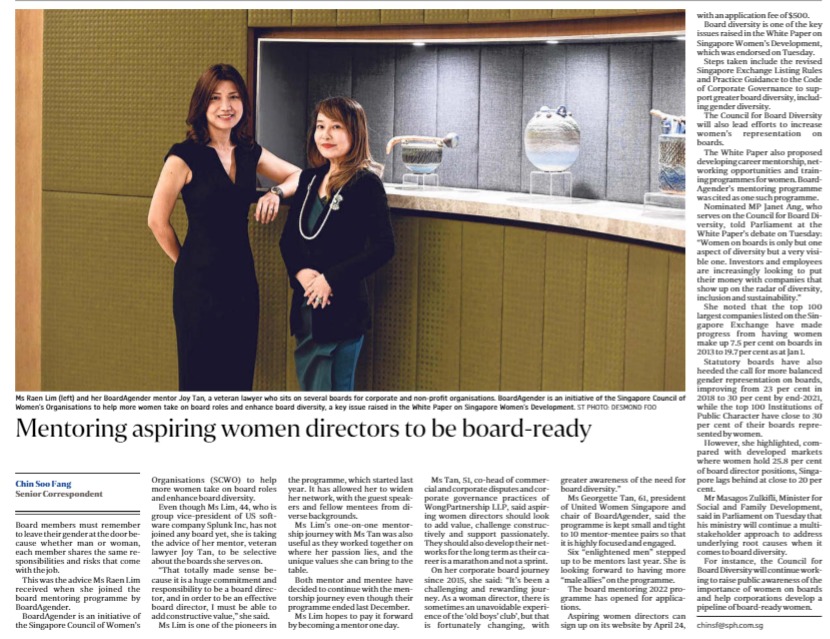 Be clear about the reason why you want to be a board director and aim to make a positive difference when you get there. Once you get on a board, leave your gender at the door because all board members share the same responsibilities and risks."
In an interview with The Straits Times, Ms Raen Lim, a pioneer applicant of BoardAgender's Mentoring Programme for Aspiring Women Directors, shared her key learnings gleaned from here 1:1 mentorship with Ms Joy Tan, which sparked a journey of self-reflection in discovering where her passion lies and the unique value she can bring to the table. In doing so, she's now able to narrow down the types of boards to put her hand up for.
The programme also allowed her to build new relationships with people outside her network and forge a tight-knit community with fellow mentees from diversified backgrounds.
Read more about Raen & Joy's mentor-mentee experience in the article here: https://www.straitstimes.com/singapore/mentoring-aspiring-women-directors-to-be-board-ready
The pair continue to share a close bond and are furthering their mentorship journey even after the programme ended last Dec!