Amb. Linda Tsao Yang chairs the Asian Corporate Governance Association based in Hong Kong, a non-profit organization dedicated to improving corporate governance practices in Asia. From 1993 to 1999, she was the U.S. Ambassador and Executive Director to the Board of Directors of The Asian Development Bank in Manila. Amb. Yang, who has a wealth of experience in public and private sector interaction, was the keynote speaker at The Singapore Institute of Directors (SID) Conference 2013.
She has kindly agreed to meet up close and personal with BoardAgender members, and WongPartnership will be hosting this lunch session in their Boardroom.
We will be limiting this to 25 attendees, so please do register as soon as possible!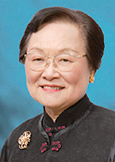 "I strongly believe we need more women on boards not because of their gender. We need more women on boards because when honestly and faithfully implemented based on merit, their perspective, expertise and experience add great value to the companies and organisations they serve."
Linda Tsao Yang
Chairman
Asian Corporate Governance Association
View the write-up on Ambassador Yang in the South China Morning Post.
Date:
Friday, 14 November 2014
Time:
12.30pm – 2.00pm
Venue:
Boardroom, WongPartnership LLP
12 Marina Boulevard Level 28
Marina Bay Financial Centre Tower 3
Singapore 018982
Cost:
$30.00 for BoardAgender members
$50.00 for Guests (To become a member, click here)
Finger food and beverages will be provided
Day Chairs
Joy Tan & Laura Hwang

— REGISTRATION NOW CLOSED —