The idea of a Women's Register was conceived after a year-long public consultation with study groups led by many prominent women in 2005. The study by the Singapore Council of Women's Organisations (SCWO) found that there was a need for an initiative to reach out to women to inspire and lead them, as well as to educate and harness the power of women.
The Women's Register was launched by former Minister of State for Community Development, Youth and Sports (MCYS), Mrs Yu-Foo Yee Shoon in 2007 with these objectives in mind. This initiative has gone through a few phases since its inception. It is now a platform for networking, education, mentorship, inspiration and the promotion of directorships for an extensive group of women of all ages.
The initiative was originally led by Ms Arfat Selvam under the name of Women's Register, along with the support of the SCWO presidents during that time, Ms Wee Wan Joo and Dr Ann Tan.
This initial review served as an incubator for a focused "women on boards" initiative in Singapore. In 2009 under the leadership of Junie Foo as Chair and Deputy Chairs Juanita Woodward and Noor Quek, a draft plan was developed, and a branding exercise was conducted with Holmes & Marchant resulting in a new name – BoardAgender – as a separate outreach arm of Women's Register.
In 2010, BoardAgender finalised its strategic plans, and held pre-launch activities including a talk by Ms Fiona Shand, Australian lawyer and Senior Facilitator for the Australian Institute of Corporate Directors, and Ms Avivah Wittenberg-Cox, CEO of 20-first, and an international speaker and authority on women in business.
BoardAgender was launched on 9 March 2011 by Mrs Yu-Foo Yee Shoon, former Minister of State, MCYS, at the SCWO International Women's Day Celebration Dinner.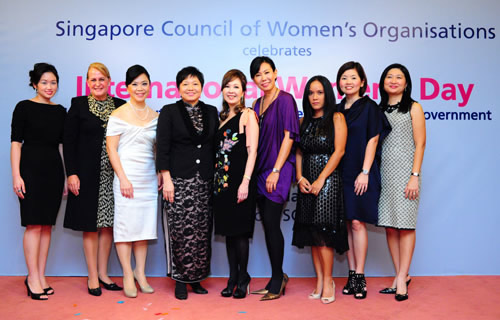 BoardAgender is as an outreach arm of SCWO's Women's Register initiative. In the speech given by Mrs Yu-Foo Yee Shoon, she explained that "BoardAgender is a conscious and concerted initiative to raise awareness on the economic benefits of an inclusive and gender-balanced business. BoardAgender encourages and enables more women to contribute their expertise in the boardroom and committees."
She also noted that gender-balanced business is not only a matter of inclusiveness, and emphasised that it was a business necessity. It enables companies to tap into the best leadership and talent – regardless of gender – to further innovation, productivity, profitability and sustainability in today's global economy.