We are delighted to have the dynamic Audrey Chin join us for BoardAgender's Up Close and Personal Session.
Participants will have an opportunity to get up close and personal with Audrey Chin as she shares insights into her experiences as a director/ chairperson in a listed board, including her successes, challenges and learnings.
This session will be useful for those who are aspiring to be board members, or are keen and curious to find out more from this inspirational role model.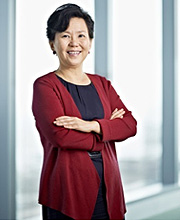 Speaker Bio:
Dr. Audrey Chin is an investor who has been actively involved in financial stewardship for over 20 years.
Audrey is currently Executive Chairman, Vietnam Investing Associates – Financials Private Limited, a family holding company. Concurrently she is an Independent Director of K-REIT Asia Management Limited and NTUC Income, sitting on their Audit, Risk and/or Investment Committees.
Audrey also sits on the Investment Committee of Providend Limited and was previously a Board Member of Singapore Petroleum Company.
In NGO work, Audrey is a management committee member of the JC Trust, a private charitable foundation. She is also a Board member of the Women's Initiative for Successful Aging and an adviser for UNIFEM Singapore. As an active proponent of financial literacy, Audrey co-founded AWARE's Financial Intelligence Training Program a first in Singapore.
Audrey was previously head of investment strategy at various financial organizations in Singapore including Fortis Bank and Pacific Asset Management. Between 1989 and 1998, she worked at the Government of Singapore Investment Corporation with her last position being Head, Asset Allocation Strategy. She served two terms on the Securities Industry Council of Singapore/
She holds a Ph.D in Public Policy Research from the RAND Graduate School of Public Policy, an M.SC. in Research Methods and Public Policy from Oxford University and an LL.B. from Manchester University.
Date: Friday, 25 April 2014
Time: 11.45am Registration, with Light Lunch and Dialogue thereafter
Venue: Wong Partnership LLP Seminar Room. 12 Marina Boulevard Level 28 
Marina Bay Financial Centre Tower 3 
Singapore 018982
Cost:
$50.00 for BoardAgender members (To become a member, register now)
$70.00 for Guests
Business women and men are welcome to attend.
Limited to 20 seats. Registration on a first come, first serve basis.
REGISTRATION IS NOW CLOSED.