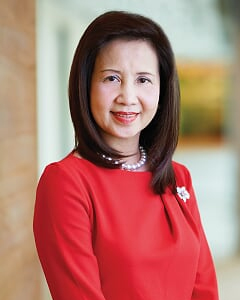 Chairman
Great Eastern Holdings
At Great Eastern, we value our people resources and recognise that they make the ultimate difference in the success of our business. Over the years, we have put in place programmes to help our employees realise their full potential. We recognise and value the importance of gender diversity in the workplace. Women offer different perspectives, experiences and skills which, when combined, help in facilitating decision-making on a more holistic level.
In Singapore, women are increasingly more educated and also more active in the workforce. Many are suitably qualified for senior positions and can contribute significantly when given the opportunity. Within the Great Eastern Group, women make up about 65% of our workforce. It will be a waste if we do not continue to harness our female talents to create real and sustainable value for the company.
At Great Eastern, we believe in empowering our women customers. We offer the most comprehensive suite of financial and protection products to meet their needs and enable them to be financially independent. Since 2006, we have been sponsoring an annual run for women which attracts over 10,000 participants.