We are delighted to have the dynamic Margie Pagdanganan, Managing Director and Investment Centre Head of Citi Private Bank Singapore join us for BoardAgender's Up Close and Personal Session.
Participants will have an opportunity to get up close and personal with Margie Pagdanganan as she shares insights into her career, leadership and personal experiences across diverse cultures along with her successes. Margie Pagdanganan was also one of the panellists for the Financial Women's Association of Singapore (FWASG) & Citi Singapore International Women's Day 2014 celebration.
This session will be useful for those who are aspiring to be board members, or are keen and curious to find out more from this inspirational role model.
Speaker Bio: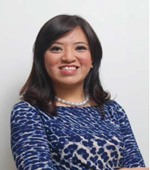 Margie Pagdanganan holds responsibility for the Citi Private Bank Asia Pacific Singapore booking center as the Singapore Investment Center Head. In this role, she provides assistance in executing business strategies, driving new initiatives and improving business processes for the Citi Private Bank in Singapore and works in partnership with the relevant groups within the Private Bank to meet regulatory requirements, enhance client experience, increase productivity and enhance controls.

Prior to her current role, she was the Chief Auditor for ASEAN and Singapore and had assurance responsibility for the various businesses and functional activities in Singapore and oversight for the Heads of Audits in the ASEAN countries. The ASEAN region for Citi comprises 10 countries. In addition to her ASEAN role, she was acting as the interim Co-Head for Internal Audit in Asia Pacific. She previously managed audit coverage for the Private Bank, Global Functions and Technology across Asia Pacific for a period of time. She was the Co-Chief Auditor for Citi Asia Pacific responsible for South Asia for 6 months in 2011 and provided audit leadership for Japan for almost 7 months in 2010.
Margie is an audit professional with approximately 25 years of experience. Prior to Citibank, Margie worked with the top external audit firm in the Philippines, SGV & Co (previously Arthur Andersen and now an Ernst & Young affiliate), as a financial and systems auditor handling banking, manufacturing and mining companies. She has been with Citigroup for 22 years and audited various businesses including Consumer, Cash, Trade, Treasury, Fiduciary, Securities, Insurance, Finance, Technology and Infrastructure Units. She was also the Collections Product Head in charge of both retail and business collection products in Global Transaction Services (GTS) Citi Philippines.
Margie graduated from Saint Louis University Baguio, Philippines with a degree in Accounting (Magna Cum Laude). She is a Certified Public Accountant (CPA-Philippines), Certified Information Systems Auditor (CISA), Certified Fraud Examiner (CFE) and Certified Anti-Money Laundering Specialist (CAMS). She is married and has 3 children.
Date:
Friday, 12 December 2014
Time:
12.30pm – 2.00pm
(Registration starts at 12.00pm)
Venue:
Citi Singapore
8 Marina View Tower 1
Asia Square
Singapore 018960
Cost:
$30.00 for BoardAgender members
$50.00 for Guests (To become a member, click here)
(Light lunch and beverages will be provided)
RSVP by 9 December 2014
Business women and men are welcome to attend.
Limited to 25 seats. Registration on a first come, first serve basis.
This event is sponsored by Citibank.
For enquiries, please contact Elizabeth at contact@boardagender.org or call 6571 0199.
—- PLEASE REGISTER YOUR INTEREST IN THE EVENT BY 9 DECEMBER 2014 —-
{chronoforms}EVENT_REGISTRATION{/chronoforms}